Album Reviews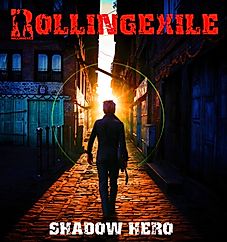 Shadow Hero
ROLLINGEXILE present their third album "Shadow Hero".
As on his two previous albums Exile (2013) and "Hardline (2016), Charlie Hallinan relies on the power of good old British rock music.
Memories of "Humble Pie," Steve Hunter, Steve Marriott, or the old "Rolling Stones" quickly come to life when listening to this warm and transparently produced CD.
All 10 songs are really catchy and you soon realize that this is an old hand at work. Striking rock songs alternate with more melodic and quiet pieces. I particularly like the almost continuous presence of mixed acoustic and electric guitar sounds, this gives the songs abundance and that extra something. Songs like these in our time are quite seldom played in this music genre. Eight points for ROLLINGEXILE and "Shadow Hero"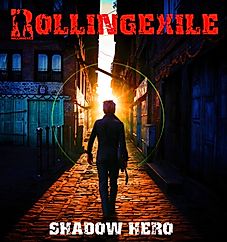 Shadow Hero
After the release of 2017's successful 'Hardline' album, ROLLINGEXILE return with probably their most sincere work to date, 2019 is a good year, 2019 is the year of the 'Shadow Hero'. ​
It has been a busy couple of years for the band, what with promoting the 'Hardline' album plus several busy jaunts on the European Tour circuit. The writing was on the wall for the new releases when ROLLINGEXILE released the 'Reflection' EP earlier this year. The EP contained two new tracks ('Nevada Midnight' and 'Shadow Hero'), plus a remix of the 'Hardline' album classic 'Good Morning London' and the original version of the 'Hardline's' 'I Sit and I Wonder'. Both of the new tracks sounded great, so I sat and I wondered (pun intended) about the new album with genuine excitement'.​
Recorded at Rogue Studios Wembley, 'Shadow Hero' comes across as a more honest work than it's two predecessors. It has a more 'live' feel to it, a bit of a 'back to basics' vibe. The album begins with the familiar 'Nevada Midnight'. I still love the guitar that leads throughout this track. It dances around you in a majestic and enticing way. The mood changes for 'New York Heat' The emotion in Charlie's voice as he pleads for help is beautiful. 'Where Do We Go' has an almost Spanish feel to it, with it's gentle acoustic guitar and such an exquisite solo. Title track 'Shadow Hero' just gets straight into it. The thumping drum beat and haunting vocals will have you clapping and singing along in no time. The reflective 'Miss You' slows things down a little as Charlie sings of regret and loss that can only come with 'being there'. 'Miss You' is a solid number that has all the right ingredients to be a modern classic. ​
My personal favourite is next, the anthemnic 'Love and Glory'. The track begins quietly and builds quite intensley as you get drawn in to the whole experience. The hair tingling moment of the album comes in at 2 mins 50 sec as the harmonica solo kicks in at just the right time (I actually raised my hand in the air at that moment) and the interplay with the stunning guitar solo is sublime. Chunky rocker 'Mirage' commands a listen and would make a worthy single. It's rocking beat, both steady and assertive, drives this number along delightfully. 'Take Me Down' delivers a seductive three minutes of contemplation and admission in a balladesque way that ROLLINGEXILE are so good at. ​
'Highway 55' is another strong track that just flows along and conveys a message of beautiful memories. I love the way that Charlie knows just what to add and what to leave out on tracks like this. The album ends with 'When You Love Someone'. A song that wouldn't be out of place on many a successful artist's album. It is quite stripped down and stunning because of this. A truly wonderful number to finish on. If you are looking for a record with emotion, well written songs and excellent musicianship then 'Shadow Hero' is well worth seeking out. The band are touring in support of the album throughout 2019/20 in Europe and the USA. Be there, you won't regret it.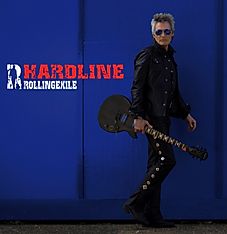 Hardline
This is the band Rollingexile, Charlie has played before in several other bands and also has played 6 gigs for U2. He is an experienced artist, as you can read the article above. Then now my album review from this band, the album is named Hardline. ​
I will start with the first track on the album, and that is "Running". The intro has a soulful melodic intro with acoustic guitar, then he opens with a very calm high sound. You can hear he is experienced in singing, it is if you are listening to U2 or David Bowie. I am so impressed, this is world class rock and rock and he sure does have the appearances for a rock and roll singer. I love this track, it is amazing and very professional played, sung and recorded. This song has potential to become a worldwide hit song, it has it all.​ Their second track is " When you lie" the intro has beautiful melodic sounds as well, and his voice is so lovely to hear. The lyrics are so beautifully written, and when he sings the lyrics comes to life and stays in your head even you never heard it before. I really want to dance and sing on the rhythmic tunes by the instruments. I am a big fan of U2 and many more, I love the old rock and rock style and this song brings back that period. ​
Then we have " down the road" brilliant guitar intro, man, this is really stunning. My credits for the band members and the production of this song. I love his mature voice, his tiny hoarseness and together with the smashing instrumental sounds. It makes this song again a world-class hit song in rock and rock and roll, this you want to hear on a stage and on every radio station there is. I am totally distracted by all that is happening in their single, that I almost forget to review the single. so good, is their music. ​
I am listening now to " Frisco" and they sure know how to make the intros stunning, this intro is a mix of blues-rock and rock. The song literally swings, it is so wonderful recorded. Stunning instrumental pieces, a great melodic and rhythmic sound and of course his voice which can sing many octaves. He has a very good timing, and it is all pure. Wow, I am so impressed by this band and their recordings. And I have just listened to 4 songs from the complete album, I am really excited and happy that this future rock and roll legend is on Chatsong.
Another track is " I sit and wonder" and as you can guess again great quality intro, lovely bluesy sounds and once he started to sing the lyrics you are sold. And want to enjoy their music and Really want " to sit and wonder" where they have been all this time and why they are not known in every country there is. Because their music sounds phenomenal and they deserve the same chances as many other big rock bands who are famous everywhere. ​
Then we have " that sign" I love the thunder sound in the intro, as well the complete intro. I hear so many styles mixed in this recording, and his voice has in this recording a little more hoarseness which I love, but other maybe not it is a matter of taste. it is more a rock ballad, it relaxes me when I listen to this song. I am intensely enjoyed while I concentrate on writing this song review. ​
The track " Good morning London" is more uptempo rock, and even I know he is a brilliant singer I find his performance in this song a little less. But the music around it is lovely, it really swings and has a lovely rhythm. I guess he has performed to much, and his throat was tired. it is no critic, But I can hear he has some flaws in this recording, on the other side he has very powerful pieces vocally when he sings with the background singers. ​
I am listening now to " zero hours" and even he has again that same hoarseness as the previous track this is more controlled and has the same performance vocally as in the first 6 songs he sung. This vocal fits more by him, the tones the chords he shows also that he can sing high octaves and that is what makes him a brilliant performer and singer. And when the background singer starts to sing, it is so wonderful that this song has again high chances to become a worldwide hit song. ​
This is cool this track " Rolling home" has the sounds of varied genres like jazz, blues, rock and country, man I love this track. Brilliant wind instrument in it, and it swings lovely. It shows as a band that they can make more than only rock and roll and that the album is varied in sounds and genres. I really want to buy this album, and show it to all in this industry in my country bars, clubs, radios, and festivals. ​
This song " All my life" is immediately awesome in the intro, great catchy tunes, and melodic sounds. From the start till the end you get treated with a musical spectacle a world-class performance by this band. How would they sound live on stage, if they sound wicked already now in the recordings? ​
Three more songs to go to review, the names of the songs are " Tell me I'm Wrong" " These days transatlantic" Stacy transatlantic". I will start with " tell me I'm wrong" it has a stunning intro with an electric guitar and his lovely voice which is a bit less hoarseness then in all the other recordings. Another smashing rock and roll recording, everything in this recording is brilliant. More words I don't need to add, just listen to their complete album and enjoy their brilliant songs. ​
Wow, this is really one of their best recordings " These days Transatlantic" the intro is stunning, his vocal performance is stunning, the lyrics are stunning the band plays stunning. Again potential for worldwide fame, as a rock band in every country there is with their album. ​
So I am going to review their last two songs " Stacy Transatlantic These Days Transatlantic" and honestly both transatlantic tracks are in my opinion the best recordings from the album. I have the feeling, these and songs are more comfortable by the singer and the band. Not that the other tracks aren't amazing they are certainly but these two last tracks are for me the greatest tracks on the album. ​
Because I pay attention, to the notes, keys, octaves, instrumental and lyrics, and everything else from what I hear in a track. This is also why I listen to all the songs artists record, so I know what they are capable of or which song need some feedback to work on. ​
I have listened to all of the songs from the album, the album consists brilliant rock and roll. It brings back the good times of rock and roll, the album is varied in genres, intros, and instrumental sounds. There are a lot of tracks who have high chances of becoming a worldwide hit song, and they for sure deserve with this album a tour and massive buyers of this wonderful produced rock and roll album. Therefore share this review, with this amazing band as much as you can and give votes and comments underneath this album review.